Posted by : RioZee
Wednesday, December 22, 2010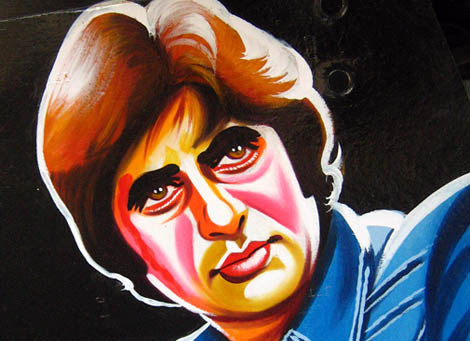 I remember, It was somewhere in the month of March in 1979. I had my new trousers stitched from a famous tailor of nearby town. The fabric, too had been purchased after strenuous visits at top shops.
The trouser was tight at the waist level, up to the knees, and after that it's diameter increased proportionately engulfing the whole shoes at the bottom. Bronze chains had been stitched at the bottom end, to give it an elegant look.
This was the famous Amitabh Bachhan style of trousers, hot cake of my times. I adorned with newly acquired big B style with colorful big polka dotted shirt, hair style groomed at best, covering my ears, matching my Hero.
I was all set now to impress upon my girlfriend. She was standing in the balcony enjoying the evening as usual, and I smiling like …….you know who, paraded blissfully, in front of her house, as if a moron is doing a catwalk.
Then suddenly the worst nightmare happened, my mind totally absorbed elsewhere, but legs fully determined to teach my mind severest of lessons, mankind may ever think of, one leg got entangled in the vast flannel of stylish trouser. I should thank the tailor for using very weak quality thread, that with a great chrrrrrring sound, the trouser tore up, saving fracture to the leg.
I somehow saved myself from falling in the mud, in front of my beloved.