Posted by : RioZee
Tuesday, January 25, 2011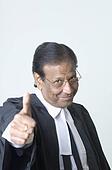 This true incident happened again in a train, going to Kolkata, got enriching valuable insight from none other, A LAWYER.
He started thus : Our profession thrives on touts, agents in every village. They bring cases to us and receive commission for their efforts.
Once a tout brought a case before me, and seeing the person I felt immense pity on him. He was very poor, so I sent the tout to order tea, and in the meantime tried to explain reason to the man : You will have to put up all sorts of scandalous blames on your brother, will you be able to do it. There is no point in it. Go home and settle among yourselves.
The man agreed and was about to leave. But the tout came back seeing his trap leaving, aroused his valor. Your brother will grab all your property. Don't act like a rat now. Be brave and fight for your rights.
This aroused him and he told me I will put up all the blames etc. you file the case.
I fought the case for him efficiently. His brother was sent to jail. He came out on bail and put up a severe case on my client and he also went to jail. I bailed him out. The case went along smoothly for two three years.
Now I saw that all his land has been sold out and his brother too has nothing now, I advised him, why don't you both drop your cases and settle up. They agreed readily. On that auspicious occasion I told him this needs a celebration, so sweets of 100 r.s. were brought.
I listened to all this, and each and every word is true.
I had read of a newly appointed judge in south India, started disposing off cases at lightning speed. Next day all the lawyers went on a strike.
I was reading of a quote by my favorite Sir William Shakespeare :
"The first thing we do, let's kill all lawyers."